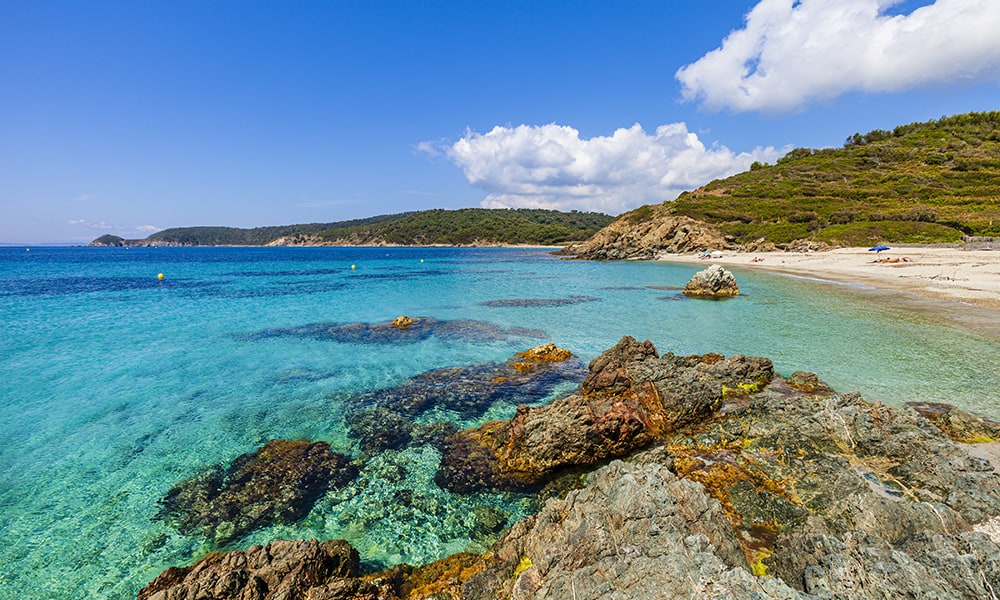 Get away from it all with a visit to Cap Camarat
You won't want to miss this stunning place during your stay in Saint Tropez. Steeped in local history, Cap Camarat is an unmissable destination. Relax and enjoy a sense of well-being in the natural surroundings of Cap Camarat!
As you explore on foot, you'll see the famous lighthouse at Cap Camarat. Originally commissioned in the 17th century, it is over 130 metres tall and offers a spectacular view.
It's the second tallest lighthouse in France. The lighthouse at Cap Camarat was acknowledged as a French historical monument in 2012. It owes its name to a 14th century manor house.
Weather permitting, as you stand at the foot of the Cap Camarat lighthouse, enjoy the incredible light as you look out at the seemingly endless sea. To the west, you'll be able to see various capes on the Var coastline and the islands of Hyères including Le Levant, Port-Cros, Bagaud and Porquerolles.
Fans of hiking will also be in for a treat. A trail to the left of the lighthouse at Cap Camarat follows the coastline, leading to the Île aux Oiseaux and the Rocher des Portes. To the east, you can reach the iconic Pampelonne beach, just 50 minutes away. Heading west, you can reach L'Escalet in 2 hours and 20 minutes and Cap Taillat in 3 hours.
Cap Camarat is renowned for its stunning fauna and flora. The colours of this unique natural setting will transport you: leave the daily grind behind and enjoy a real sense of well-being.
You'll feel blissful as you contemplate the infinite blues of the Mediterranean Sea, combined with the whites of the rocks and the greens of the trees.
Cap Camarat is a natural site which has retained its authentic character. During your walk, you may get a glimpse of various reptiles including lizards, snakes and even Hermann's tortoises.
The area is also home to seabirds and birds of prey, including gannets and peregrine falcons.
The Cap Camarat site also includes Cap Lardier and Cap Taillat. These three areas have been protected for decades. This helps to fight fires and protect the natural surroundings of this stunning site. Informative communications help to raise awareness of nature conservation efforts.
Take advantage of your stay at Hotel La Figuière to get away from it all and enjoy the wild, striking beauty of these natural surroundings. A visit to Cap Camarat will be an incredible experience during your stay in Saint Tropez. Whether you're on your own, with friends or family, enjoy an unforgettable day out in a unique setting which is steeped in history.